Blu-Lock Sprinkler Irrigation System Pricing Example
---
Using Blu-Lock components for your DIY Irrigation System is a user friendly alternative to traditional Sprinkler System components and can be installed for a very similar cost. The push and lock design of Blu-Lock components takes away the hassel of insert fittings and clamps while giving you a professional and lasting result.
Using our sample house, the following illustrates a full Sprinkler System layout with pricing using Blu-Lock fittings and pipe. This example can be used to give you general budgeting guidelins and illustrate the components often used for Irrigation Installations. For Pricing example using traditional 80-100 PSI Poly Tubing and Fittings Cick Here.
Please Note: System components will vary for specific applications. Prices may vary from current web pricing.
To obtain a custom Blu-Lock Design for your DIY Sprinkler System please visit our Irrigation Design section.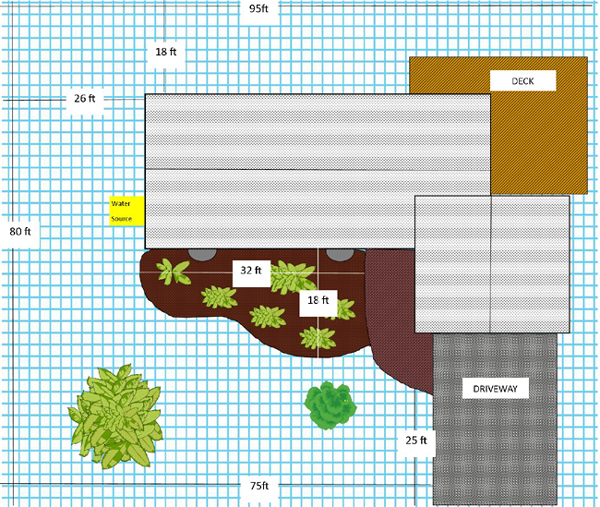 From this diagram the plan produced is shown below.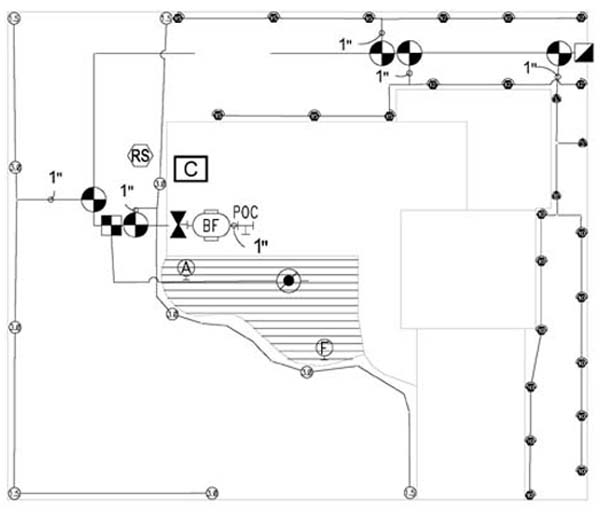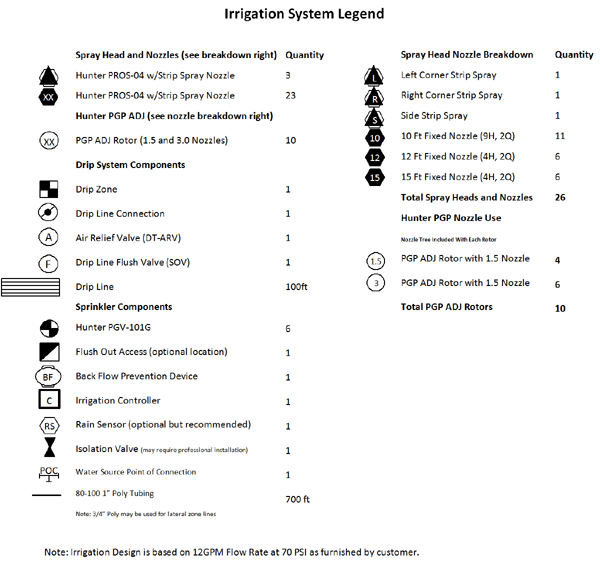 To better understand this irrigation system layout we have highlighted the recommended zoning for this design.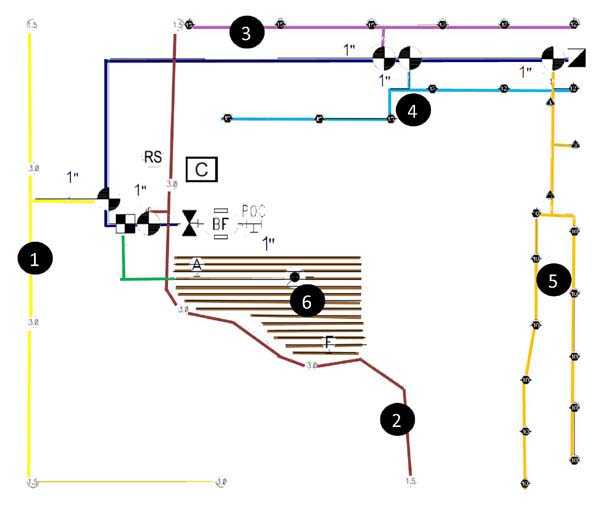 For the Irrigation System illustrated above we have provided sample pricing using Blu-Lock Components and Tubing. Note: Pricing and Products may vary from web offering.
Irrigation System Pricing (1" Blu-Lock Tubing)
Part Number
Description
Quantity
Price
Total
Water Source Connection and Control

61791P

#7 Dual Check Valve 3/4" from Watts

1

$ 33.00

$ 33.00

XC-600

Hunter 6 Station Outdoor Controller (other controllers can be substituted)

1

$ 125.00

$ 125.00

37678

1" MIPT x Insert Male Adaptor (for connection to System Shut off valve)

4

$ 1.85

$ 7.40

0921-10

1" Ball Valve

1

$ 5.65

$ 5.65

Tubing and Fittings for Main and Lateral Lines

37692

1" x 300 ft Blu-Lock Tubing

2

$ 129.00

$ 258.00

37682

1" x 100 ft Blu-Lock Tubing

1

$ 49.00

$ 49.00

37670

1" Insert T (may not be optional depending on layout obstacles)

10

$ 4.12

$ 41.20

37673

1" Insert Elbow

10

$ 2.95

$ 29.50

37680

1" Blu-Lock Cap

14

$ 1.88

$ 26.32

Valves, Boxes, Wiring & Assemblies

PGV101G

Hunter PGV 101G 1" FPT Valves (can be substituted for other FPT valves)

6

$ 18.50

$ 111.00

NDS06-R

6" Round Valve Boxes

6

$ 6.25

$ 37.50

18-7-100

100 ft. 7 Strand Direct Burial Wire

1

$ 51.50

$ 51.50

WPWN-S

Weatherproof Silicon Wire Nut Connectors

20

$ 0.85

$ 17.00

37670

1" Insert T

6

$ 4.12

$ 24.72

37678

1" MIPT x Insert Male Adaptor (for connection to either side of valve)

12

$ 1.85

$ 22.20

Rotors and Assemblies Note: Rotor Nozzles to be installed are indicated on the specification diagram.

PGP ADJ

Hunter PGP ADJ Rotors (6 using #3 Nozzle and 4 using 1.5 Nozzle)

10

$ 14.25

$ 142.50

2917

1" Blu-Lock Nitro Saddle Body

10

$ 1.44

$ 14.40

2920

3/4" Nitro Saddle Tap

10

$ 1.44

$ 14.40

883-005

3/4" Close Nipple

10

$ 0.40

$ 4.00

Sprayers and Assemblies Note: Spray Nozzles to be installed are indicated on the specification diagram.

PROS-04

Hunter PROS-04 Spray Body

26

$ 2.25

$ 58.50

Nozzles

Various as per Legend

26

$ 1.20

$ 31.20

2917

1" Blu-Lock Nitro Saddle Body

26

$ 1.44

$ 37.44

2919

1/2" Nitro Saddle Tap

26

$ 1.44

$ 37.44

882-005

1/2" Close Nipple

26

$ 0.34

$ 8.84

Drip Assembly For Front Yard Shrub Bed

DD-YS75

3/4" 150 Mesh Y-Valve (MPT x MPT) Connect to Valve

1

$ 9.90

$ 9.90

DD-HPR30LF

30 PSI Pressure Regulator

1

$ 4.90

$ 4.90

DD-CFP700

3/4" FPT Swivel Adaptor (for connection to Solid Drip Tube DD-DH700-50

1

$ 0.90

$ 0.90

DD-DH700-50

1/2" Solid Drip Tubing 50ft

1

$ 11.00

$ 11.00

DD-CFPT700

1/2" compression x 1/2" FPT T-fitting (for connecting solid tube to ARV)

1

$ 1.30

$ 1.30

DT-ARV

1/2" MPT Air Relief Valve (to be located at highest point of Drip Assembly)

1

$ 3.00

$ 3.00

DD-CFPL700

1/2" compression x 1/2" FPT Elbow (connecting solid tube to Drip Line)

1

$ 1.25

$ 1.25

T1705MA

1/2" MPT x 17mm Barb Fittings (connects Techline CV Emitter Tubing)

1

$ 0.55

$ 0.55

TLCV1201

Netafim 17mm Techline CV Emitter Tubing - .9 GPH - 100ft

1

$ 35.00

$ 35.00

T17ELL

17mm Barbed Elbow Fittings

10

$ 0.38

$ 3.80

T17SOV

17mm Shut off Valve (for draining dripline at end of run)

1

$ 3.10

$ 3.10

DD-S6

Hold Down Stakes (drip line)

40

$ 0.16

$ 6.40

Odds and Ends

TL-CSC102

Compact Wire Stripper/Crimping Tool (optional)

1

$ 10.75

$ 10.75

TL-RPC100

1" Ratcheting Pipe Cutter

1

$ 9.50

$ 9.50

$ 1,289.06
Blu-Lock Irrigation Designs and Parts list are available for all provinces in Canada including B.C., Alberta, Saskatchewan, Manitoba, Ontario, Quebec, New Brunswick, Nova Scotia, PEI, and New Foundland
Ref 520