How To Connect To A Water Supply
---
Water Source Connection
The Water Source Connection commonly consists of the following components:
Manual or Automated Valve for turning the system on and off

Screen or Disk Filter

Pressure Regulator

Back Flow Prevention Component
For this discussion we will assume that all systems will be initially connected to a standard hose thread faucet with a 3/4" Male Hose Thread Conneciton. See illustrations below.
Manual and Automated System Controllers: When designing a drip irrigation system (or sprinkler system) a decision will likely be made for manual or automated on/off control. This often is a matter of preference and can be implemented in a few different ways:
Manual Control - This can be as simple as turning on the tap, but can also take the form of a flow control valve further down the line. This is obviously the most economical method but you must be present to operate the system which obviously lacks the convenience of an automated watering system
Hose End Timers - This is a simple solution for systems running off of a standard hose bib (faucet). Hose End Timers come in single, double, and four zone models and are easy to program and now available with WIFI control.
Battery Operated Solenoid Controllers - DC Stand Alone Controllers are commercial grade and an excellent choice when the connection to the system is down line or zones are located in different areas. Additional zones can be added anywhere.
AC Controllers and Solenoids - AC Controllers and Solenoids are the choice for both large and small systems. Controllers are mounted indoors or outdoors and hard wired to inidividual solenoid valves. Perfect for multi zone layouts, and allows for the addition of future zones.
Screen and Disk Filters: Filtration is a critical component of any drip irrigation system and an important component to ensure the long term operation of any drip watering system. The two most common filtration choices are Screen and Disk Filters, which are available in a variety of thread sizes for both big and small drip sytems.
Screen vs Disk Filters
Screen Filters: Screen Filters are the most commonly used filters and in most cases the most economical. They are a good choice for removing hard particulates like sand and dirt but not the best choice for removing organic material such as algae and slime. These materials will clog a filter and are hard to remove in the cleaning process. Screen Filters are a great choice for systems using pre-filtered municipal water or water free of organic material. Screen Filters are available in both Pipe Thread (for Solenoid Systems) and Hose Thread (for Hose End Timers).
Disk Filters: Disk Filters are an excellent choice for removing both hard particulate and organic materials. Disk Filters house a stack of hundreds of round disks which are housed in the filter cartridge. When water is passed over the disks, particulates are trapped in the tiney grooves of the disk as water is forced through the filter. Disk Filters are easy to clean by simply removing the disk stack and spraying down the individual disks. Disk Filters come in a variety of thread sizes and are only available for Pipe Thread fittings (hose thread adapters are available).
Pressure Regulatators: Drip Irrigation Systems usually operate between 6 and 60 psi depending on the type of drip system you are installing. As most municipal pressure is either at the higher end of this range or exceeding this pressure, a pressure regulator is usually necessary for all drip systems. Presssure Regulators are offered in both Pipe and Hose Thread configurations.
Back Flow Prevention: Back Flow Prevention is often mandatory in certain municipalities. If you are using a Hose End Timer (below) as your on/off valve the back flow prevention (DD-HVB) will be connected after the timer. If you are using solenoids the back flow prevention is usually placed before the solenoids. For Back Flow Components for Solenoid Systems please click here.
Water Source Connection Illustrations
1. Water Source Connection With Hose End Timer
Parts List From Left To Right
Hose End Water Timer
Water Timers are offered in Single, Double, and Quad zone models.
Hose Thread Filter
Hose Thread Screen Filters are most commonly installed with Hose End Timers. Shown above A4-HTF155
Pressure Regulator
Pressure Regulator to reduce and equalize pressure from water source. Shown with DD-HPR25 25 PSI Regulator
Hose Vacuum Breaker
Hose Vacuum Breaker DD-HVB prevents water from re-entering the water system. (OPTIONAL)
Line Connection
Installed after the Pressure Regulator their are several choices for connections to distribution lines. Shown above with the DL-FHS600 for 1/2 Solid Tubing. If using 3/4" tubing the fitting would be A1-H8S
2. Water Source Connection With Battery Operated AC Controller and Solenoid
Parts List From Left To Right
Hose Thread Adapter
(Optional) This component will enable you to switch from Hose Thread to Pipe Thread Fittings. All Solenoid Valves are Pipe thread so it is often recommended to adapt for a better connection.
Adapter Bushing
(Optional) Many Solenoid Valves are 1" FPT, if not using a 3/4" Solenoid this component adapts a 3/4" water source to a 1" valve. If you use a 3/4" Solenoid Valve this component is not required. Part Number 439-131
AC Controller
The DC Timer and Solenoid Valve can be sold seperately or as a package. as shown with the DIG710AP. AC Controllers come in 1, 4, and 6 zone models.
Solenoid Valve
The Solenoid Valve is operated from the AC Controller and is available in 3/4", 1, 1.5" and 2" sizes. When using AC Controllers a Latching Solenoid must be used.
Adapter Bushing
(Optional) Many Solenoid Valves are 1" FPT, if not using a 3/4" Solenoid this component adapts a 3/4" water source to a 1" valve. If you use a 3/4" Solenoid Valve this component is not required. Part Number 439-131
Pipe Thread Filter
Filters used with Solenoid Valves should be Pipe Tread (MPT) Filters. Pipe Thread Filters are available in 3/4", 1", 1.5", and 2" sizes. Shown here with the Netafim DF075-140 Filter
Pressure Regulator
As with the Filter if using Pipe Thread (MPT) components, it's advised to use a Pipe Thread Pressure Regulator. Shown with the DD-PR20LF-75
Line Connection
There are many options for Pipe Thread Line Connections. Shown here with 1435-007. Other options include Insert Female Adapters for larger line connections
3. Water Source Connection with an AC Controller and Solenoid Valves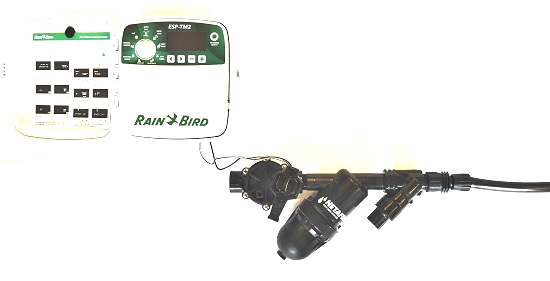 Parts List From Left To Right
Irrigation Controller
AC Controllers are available in a wide range of zone sizes and allow for easy expansion for additional zones. Irrigation Wire Is used to connect to Solenoid Valves. Shown with Rain Bird ESP-TM2 Controller.
Hose Thread Adapter
(Optional) This component will enable you to switch from Hose Thread to Pipe Thread Fittings. All Solenoid Valves are Pipe thread so it is often recommended to adapt for a better connection. Shown with DD-FH4.
Solenoid Valve
The Solenoid Valve is operated from the AC Controller and is available in 3/4", 1, 1.5" and 2" sizes. When using AC Controllers a Latching Solenoid must be used. Shown with the Rain Bird DV075 Solenoid Valve
Pipe Thread Filter
Filters used with Solenoid Valves should be Pipe Tread (MPT) Filters. Pipe Thread Filters are available in 3/4", 1", 1.5", and 2" sizes. Shown here with the Netafim DF075-140 Filter
Pressure Regulator
As with the Filter if using Pipe Thread (MPT) components, it's advised to use a Pipe Thread Pressure Regulator. Shown with the DD-PR20LF-75
Line Connection
There are many options for Pipe Thread Line Connections. Shown here with the DD-CFP700, a 1435-007 would be used for 3/4" Tubing. Other options include Insert Female Adapters for larger line connections

Ref 110