How To Irrigation System For Cut Flower Planting Beds
---
In this how to illustration, the customer wanted a simple drip irrigation solution for cultivating cut flowers in four planting beds. The following factors were taken into account for this watering solution:
1. Owner would be present at time of watering. This would enable the owner manually switch between the four zones created using a manual shut off valve.
2. Each planting bed was 100 ft x 4 ft in size with plantings every six inches. Rows were 6" apart. The customer wanted a general watering of the entire area and the decision was made to use drip tape between each row of plantings.
3. Due to the number of rows in each box, water consumption was an issue. Designed with the ability to water 9 rows at a time, 12" drip tape was recommended to ensure adaquate volume of water was available using 3/4" poly tubing as a header. The following calculation was used to calculate the water consumption for each planting bed:
-Drip Tape water consumption for 12" Drip Tape =.42 GPM/100Ft
-Total Length of Drip Tape for each planting bed = 900
-Water Consumption per minute for each planting bed = 3.78 GPM (900 ft x .42 gpm/100ft)
-Water Consumption per hour for each planting bed = 226.8 GPH (3.78 GPM x 60 Minutes)
Maximum flow rate for 1/2" poly tubing is approx. 280 gph, however the decision was made to use 3/4" poly tubing (approx. flow rate of 480 gph) to allow for the possibity of watering two planting beds at the same time.
We provided two option to the customer, a non or semi-automated, and fully automated solution. Both solution with costing are shown below. To download the pdf for both options click on the link below.
Click Here For pdf of both layouts and costing
Non-Automated Layout Illustration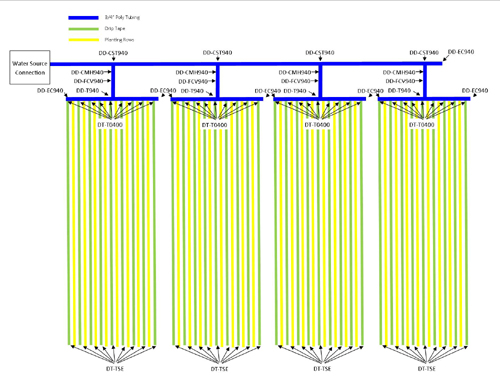 Costing For This System - Non-Automated
Part Number
Description
Quantity
Price
Total
Water Source Connection (In order of Connection)
DD-ZBV75 (Optional)
Zinc Ball Valve - 3/4" Female Hose x 3/4" Male Hose
1
$ 3.25
$ 3.25
DD-DWT673 (Optional)
Drip Pro Digital Water Timer 3/4" FHT Inlet x 3/4" MHT Outlet
1
$ 32.75
$ 32.75
DD-HVB
Vacuum Breaker 3/4" Hose Thead Anti Siphon Backflow Preventer
1
$ 2.75
$ 2.75
DD-YS75HFM-200
Y Filter 3/4" Female Hose Swivel x Male Hose Thread 200 Mesh SS Screen
1
$ 9.50
$ 9.50
DD-HPR10
Pressure Regulator 10 PSI - Hose Threaded 3/4" FHT x 3/4" MHT for Drip Tape
1
$ 7.75
$ 7.75
DD-CHS940
3/4" Hose Thread Swivel x .940 OD Compression Adapter - Gray Ring
1
$ 1.30
$ 1.30
DD-YSRS200 (Optional)
Replacement Filter 200 Mesh Stainless Steel for 3/4" & 1" Y Filters
1
$ 3.50
$ 3.50
Connections and Tubing
DD-CST940
3/4" Hose Thread Swivel x .940 OD Compression Tee - Gray Rings
4
$ 1.80
$ 7.20
DD-CMH940
3/4" Male Hose Thread x .940 OD Compression Adapter - Gray Ring
4
$ 0.95
$ 3.80
DD-FCV940
3/4" Flow Control Valve .940 OD Compression - Gray Rings
4
$ 2.05
$ 8.20
DD-T940
3/4" Compression Tee .940 OD - Gray Rings
4
$ 1.20
$ 4.80
DD-EC940
3/4" Compression Hose End Plug .940 OD with 3/4" Cap - Gray Ring
9
$ 1.10
$ 9.90
DD-DH940-100
3/4" x 100' .940 OD Poly Tubing - 100' Roll
1
$ 27.00
$ 27.00
DT-TO400
Drip Tape 5/8" Loc x .400 Barb - High Flow
36
$ 0.46
$ 16.56
DT-1512HF
Drip Tape 5/8" (16mm) 15 Mil 12" Spacing Hi-Flow .42 GPM/100' - 4,590' Roll
1
$ 310.00
$ 310.00
DT-HP400
Hole Punch .400" Barb for Hi-Flow Drip Tape Fittings
1
$ 15.00
$ 15.00
DT-TSE
Drip Tape 5/8" Sleeve End
36
$ 0.18
$ 6.48
DD-S6
Drip Tubing Hold Down 6" Wire Stake "Staple Style" fits 1/8" to 3/4" tubing
200
$ 0.16
$ 32.00
$ 501.74
Fully Automated Layout Illustration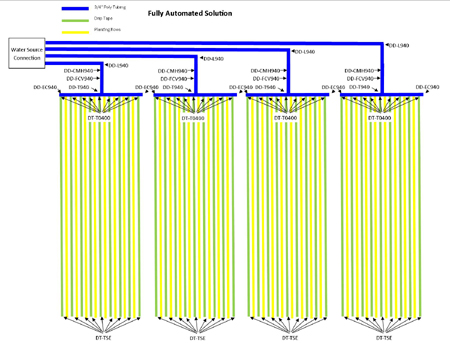 Costing For This System - Fully-Automated
Part Number
Description
Quantity
Price
Total
Water Source Connection (In order of Connection)
DD-ZBV75 (Optional)
Zinc Ball Valve - 3/4" Female Hose x 3/4" Male Hose
1
$3.25
$3.25
3280
3280 - Melnor 4 Zone Water Timer
1
$74.00
$74.00
DD-HVB
Vacuum Breaker 3/4" Hose Thead Anti Siphon Backflow Preventer
4
$2.75
$11.00
DD-HIF75
3/4" Inline Filter
4
$4.50
$18.00
DD-HPR10
Pressure Regulator 10 PSI - Hose Threaded 3/4" FHT x 3/4" MHT for Drip Tape
4
$7.75
$31.00
DD-CHS940
3/4" Hose Thread Swivel x .940 OD Compression Adapter - Gray Ring
4
$1.30
$5.20
YSHIFRS
Replacement Filter Mesh Stainless Steel for Inline Filter
4
$2.00
$8.00
Connections and Tubing
DD-L940
3/4" Compression Elbow .940 OD - Gray Rings
4
$0.90
$3.60
DD-CMH940
3/4" Male Hose Thread x .940 OD Compression Adapter - Gray Ring
4
$0.95
$3.80
DD-FCV940
3/4" Flow Control Valve .940 OD Compression - Gray Rings
4
$2.05
$8.20
DD-T940
3/4" Compression Tee .940 OD - Gray Rings
4
$1.20
$4.80
DD-EC940
3/4" Compression Hose End Plug .940 OD with 3/4" Cap - Gray Ring
9
$1.10
$9.90
DD-DH940-100
3/4" x 100' .940 OD Poly Tubing - 100' Roll
1
$27.00
$27.00
DT-TO400
Drip Tape 5/8" Loc x .400 Barb - High Flow
36
$0.46
$16.56
DT-1512HF
Drip Tape 5/8" (16mm) 15 Mil 12" Spacing Hi-Flow .42 GPM/100' - 4,590' Roll
1
$310.00
$310.00
DT-HP400
Hole Punch .400" Barb for Hi-Flow Drip Tape Fittings
1
$15.00
$15.00
DT-TSE
Drip Tape 5/8" Sleeve End
36
$0.18
$6.48
DD-S6
Drip Tubing Hold Down 6" Wire Stake "Staple Style" fits 1/8" to 3/4" tubing
200
$0.16
$32.00
$587.79
Ref 330