Pumpkin Irrigation Drip Irrigation Line Connection Examples
---
Pumpkin Patch Irrigation
Drip Irrigation Line Connection Examples
We can now look at the options you have for connecting drip lines for a pumpkin drip irrigation system.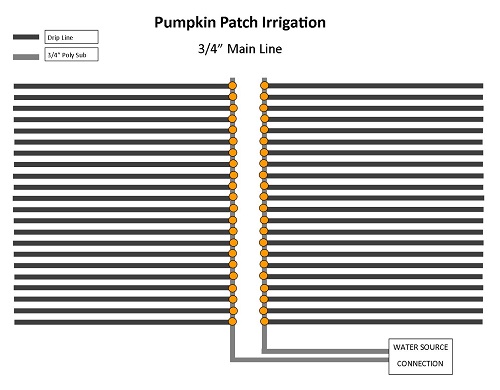 For the illustration (above) we are using as an example we can look at 4 options for connecting drip lines.
Solid Drip Tubing with Self Piercing Emitters Non-Removable Lines

Solid Drip Tubing with Self Piercing Emitters w/Removalbe Lines
Drip Emitter Tubing with Non-Removable Lines
Drip Emitter Tubing with Removable Lines.
In these illustrations all lines are removable with some effort but "removable lines" are removed via swivel connectrs while "non-removable lines" need to be pulled from the connection assembly. It is a matter of convenience.
1. Solid Drip Tubing with Self Piercing Emitters Non-Removable Lines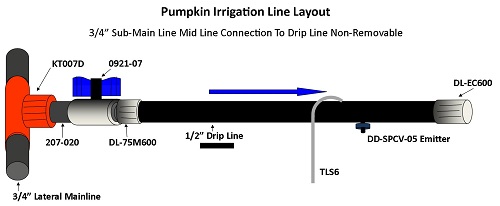 | | | |
| --- | --- | --- |
| | KT007D | Dawn Quick Tap Saddle or Blu-Lock Saddle and Tap combination. As noted above alternative fittings can be substituted for these products. |
| | 207-020 | Nipple fitting to connect T fitting to flow control valve. If no flow control is desired for individual drip lines this part can be omitted. Various lengths are available in the Nipple Fitting category. |
| | 0921-07 | Flow Control for individual drip line is recommended to shut off harvested lines. If flow control isn't desired or necessary this component and the 207-020 nipple fitting can be removed from the assembly. |
| | DL-75M600 | 3/4" Male Pipe Thread fitting x Direct Lock to connect flow control valve to the drip line. |
| | TLS6 | Hold down stake for tubing up to 3/4" |
| | DD-SPCV05 | Self Piercing Pressure Compensated Drip Emitter .5 gph. |
| | DL-EC600 | End Cap for end of each drip line. Removable cap for easy drainage and winterization. |
| | DH700-1000 | 700 Series Solid Drip Tubing Available in 50, 100, 500 and 1,000 ft rolls. |
| | DH940-100 | 940 Series 3/4" Solid Drip Tubing. |
2. Solid Drip Tubing with Self Piercing Emitters w/Removable Lines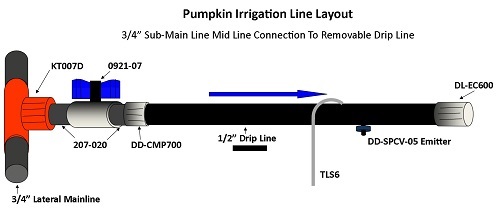 As you can see from the above illustration to adjust the configuration to enable lines to be easily removable for re-location or winterization an additional nipple fitting is added and the 75M600 is replaced with a DD-CMP700. As with the non-removable system, if no flow control is desired or required the DD-CMP700 can be directly inserted into the Quick Tap assembly.
Alternative Methods For Installing Drip Lines with Solid Drip Tubing
Before we move on to components for installing drip emitter tubing we will show you a few quick methods for installing drip lines to a lateral distribution line. These methods require the distribution line to be cut for installation as opposed to the convenience of using saddles and taps. The components used may be slightly less durable but high quality nonetheless. These methods can only be employed using 940 series solid drip tubing.
Non Removable
Removable
Description
Components used to connect 940 series tubing to lateral distribution lines. The DD-CST940 has a swivel FHT T for removing drip lines.
DD-T940700
DD-CST940
Compression Direct To Tubing
When connecting a 1/2" to 3/4" drip line using a T940700 all sides are compression and not removable. When using a CST940 a DL-MH600 can be used to connect to the 1/2" drip line.
None
DL-MH600
Flow Control If desired. Direct Loc fittings can be removed while compression can not.
DD-FCV700
DL-FHS600
After connection to 700 series 1/2" solid drip tubing the remainder of the components listed above remain the same.
We will now move on to component options when using Drip Emitter Tubing.
Ref 820