Pumpkin Irrigation
---
DIY Pumpkin Irrigation Systems
Pumpkins are a unique crop to grow as one plant can cover a large area. As the plant expands from it's original planting it will lay down additional roots from the stems themselves. Therefore when planning a pumpkin irrigation system you must plan for watering away from the plant as well as the seedling itself. Below is a photo of the current Ontario record pumpkin which weighed in at 1,803 pounds. This pumpkin and it's second place finisher at 1,800 pounds were both grown with an Irrigation Direct Canada Drip Irrigation System.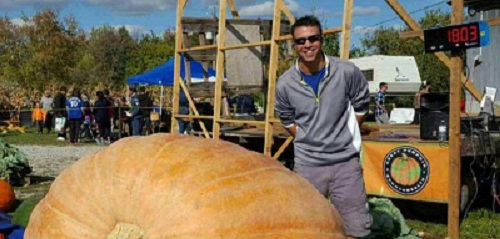 Ryan Hoelke With His Ontario Record Pumpkin
Types of Irrigation for Pumpkin Patches
Drip Emitters vs. Emitter Tubing (Drip Line): This is the decision most Pumpkin Growers will face when initially planning an Irrigaiton System. While both are equally effective and very close in installation cost, there are advantages and disadvantages of both application methods. If your pumpkin patch is on a flat surface you can likely use either pressure compensated or non-pressure compensated emitters, however we do usually recommend pressure compensated emitters to give equal water output to each emitter.
Drip Emitters: Drip Emitters are simple to use and reliable. They are either self-piercing or used in conjunctin with a hole punch and are pierced through solid drip tubing to assemble custom drip line.
Advantages:
Available from .5 gph to 2 gph

Easy to Install and replace

Can be installed directly above plant roots after planting
Disadvantages:
Time to install for larger systems

Rolling up Lines can be more challenging (if necessary).
Drip Emitter Tubing: Drip Emitter tubing is manufactured with emitters installed at defined intervals. Emitter tubing is offered with a variety of options pertaining to water quality and filteration.
Advantages:
Available from .26 gph to 1 gph

Emitters pre-installed eliminating individual installation of emitters
Disadvantages:
Emitters at pre-defined distances and cannot be moved

If emitters become plugged they cannot be replaced.
For Pumpkin Patches it is really a matter of preference and either method will provide excellent results. Additional emitters can be added to either method if adequate coverage is not being acheived. We will now explore these methods in greater detail.
Ref 780