Strawberry Irrigation Drip Line Connection for Drip Emitter Tubing
---
Strawberry Irrigation
Components Layout For Strawberry Drip Irrigation Systems Cont'd
We will now look at the components commonly used to connect Drip Lines to zone manifolds for a Strawberry Irrigation system using Drip Emitter Tubing.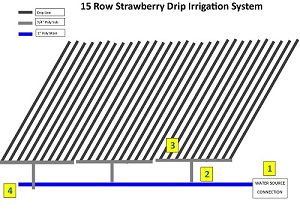 3 Connecting Drip Irrigation Lines For Each Zone Using Drip Emitter Tubing
Assembling Drip Lines using Drip Emitter Tubing is virtually the same as the part combinations when using drip emitters, except no emitters are punched into the drip lines. When installing Drip Emitter tubing the type of emitter tubing you use is an important decision to make, and is usually determined by taking into account the quality of water you are using for the Strawberry field. For non-municipal water sources the most popular drip line is Uniram from Netafim, while if you are using a municipal and relatively clean source you can use Techline or Techline EZ from Netafim. When purchasing/installing drip line you will need to order the appropriate spacing of emitter and line the emitters up to the watering area. You must also take note of the maximum run length for the drip line you are considering. Maimum Run Length Charts
When using Drip Emitter Tubing vs Solid Tubing with Emitters there are a few advantages and disadvantages to be aware of:
Advantages:
Broader range of lower flow rates from Emitters.
Easy installation (no punching emtters through tubing)
Disadvantages:
When emitters clog they can't be replaced.
Set Emitter spacing (tubing must be special ordered for large spacing).
Choosing a Drip Emitter Tubing
When choosing a Drip Emitter Tubing there are options to consider depending on the characteristics of your Drip Irrigation System. Irrigation Direct offers three styls of drip line for large garden applications as outlined below.
Techline EZ - Intended for the DIY customer TLEZ is a durable drip line from Netafim with pressure compensated emitters with flow rates from .26 - .9 gph. TLEZ is less expensive than competing brands while giving you quality you would expect from Netafim.
Techline DL - For slightly longer runs Techline DL from Netafim uses pressure compensated emitters and is a popular choice for our Canadian climate. Available in a wide range of flow rates.
Uniram - Uniram is the choice for customers who encounter problems with water quality. With outstanding filtering capabilities Uniram can be used in challenging circumstances. Uniram is available on a special order bases with a minimum of 3,000 ft per order.
For a complete listing of Drip Emitter Tubing offered click here.
We will now look at a few options for connecting Drip Emitter Tubing to solid dristribution tubing.
Drip Emitter Tubing with insert fittings (not intended for removing Drip Emitter Tubing lines).
Drip Emitter Tubing with Swivel Adapter connections for easy removal of Drip Lines.
Drip Emitter Tubing with insert fittings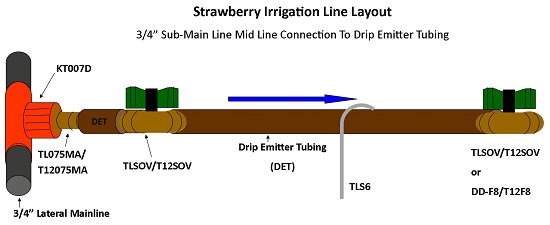 TLEZ 12mm
TLDL & Uniram
KT007D
KT007D
Dawn Quick Tap Saddle or Blu-Lock Saddle and Tap combination. As noted above alternative fittings can be substituted for these products.
T12075MA
TL075MA
Male Adatpter for both 12mm (T12075MA) or 17mm (TL075MA)
T12SOV
TLSOV
Flow (if desired) can be connected using a small piece of Drip Emitter Tubing from the male adapter. T12SOV for TLEZ 12mm tubing and TLSOV for 17mm tubing.
TLS6
TLS6
Hold down stake for tubing up to 3/4"
T12SOV
TLSOV
Flow control valves can also be used for easy drainage of drip lines. Alternatively figure 8 fittings can be used to kink and seal the end of each line.

or
or
T12F8
DD-F8
Connecting Drip Lines from 1/2" Solid Drip Tubing
For smaller systems it may be possible to conect drip lines to 1/2" Solid Drip Tubing (when flow rate for drip lines is under 250 gph). The following components provide the best connection combination and allow for easy removal of drip lines.
Ref 970