Sub Surface Lawn Irrigation Using Netafim Drip Line Choosing Your Drip Line
---
Sub Surface Turf Irrigation - Drip Line Basics
Choosing Your Drip Line - Sizing Spacing and Flow Rate
Sizing your Netafim Techline for your sub-surface system is your first stop in the planning process and often has an impact on other factors such as Header Sizing and Zoning depending on the size of the system and water requirements.
The first step in planning your Drip Line requiremnts is to have an understanding of what type of soil you are dealing with. For simplicity we have broken this down into two main categories as shown below. The soil type effects the rate of absorbtion and dissipation from the emitters and therefore has an impact on the row spacing of your drip lines and the rate of flow from each emitter. The chart below provides a guideline for which Drip Line is right for your situation.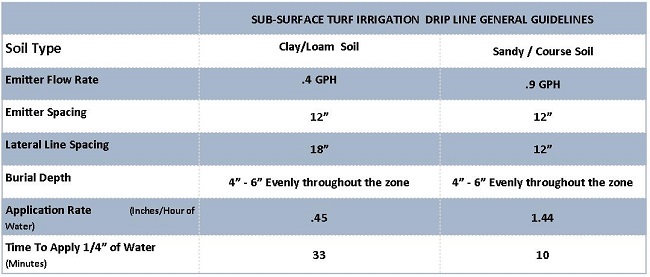 Flow Rate Per 100 ft of Drip Emitter Tubing

The flow rates outlined above can determine what size of lateral distribution line will be required for your sub surface drip irrigation system. As we have illustrated in the tubing flow rate tutorial.
Maximum Lateral Run Length

As you can see from the above chart, PSI will affect the maximum lateral run length for your system.
We will now walk through an example utilizing what we know about the Drip Line characteristics and applying the basics for Drip Line planning.
Ref 1011