Vineyard Irrigation Drip Line Assembly
---
Vineyard Irrigation
Drip Line Components Layout For Vineyard Irrigation Systems
We will now look at the component options used to connect Drip lines to zone manifolds for Vineyard watering systems. There are a few methods commonly used to connect drip lines to lateral lines which we will look at independently.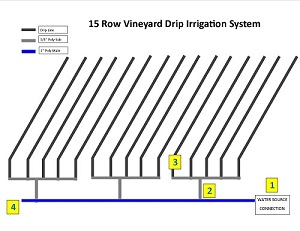 3 Connecting Drip Irrigation Lines For Each Zone
There are several methods for connecting drip lines and we will now illustrate the most common installations from our customers.
Using a Trellis Line with Emitters
Using a Trellis Line with Drip Emitter Tubing
No Trellis Line with Emitters
No Trellis Line with Drip Emitter Tubing
In our example we are using 3/4" lines for our zone lateral distribution lines. We now need to connect the drip zone kit from to the lateral distribution line for the drip lines.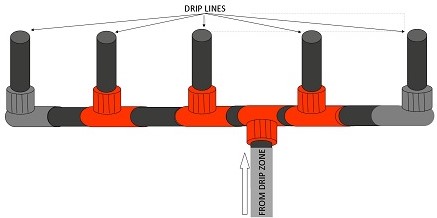 As you can see from the diagram above we now connect the lateral with another "T" fitting. We've indicated in the diagram that we will be using another Dawn quick tap fitting (KT007D) but there are a variety of fittings you can use to form a T using other methods;
Drip Line Connection for Hop Yard Irrigation Using Self Piercing Emitters and Trellis Line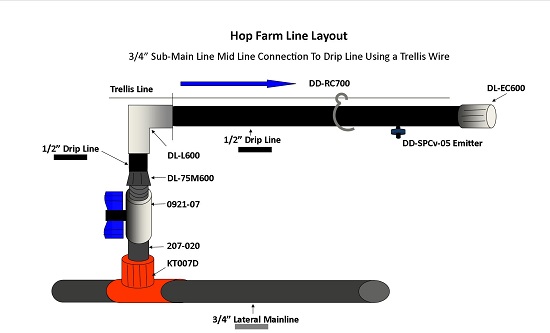 This method for drip line assembly is commonly used for Vineyard Irrigation. It is a versatile method of installation which can be installed relatively easily. Whether or not you are using a Trellis line this connection assembly is beneficial as it allow the main and sub-main distribution lines to be installed underground with only drip lines above ground. The distance to the flow control valve can be modified by using a longer nipple fitting or by using a small bridge of solid drip tubing. See below for a parts breakdown with links to products:
| | | |
| --- | --- | --- |
| | KT007D | Dawn Quick Tap Saddle or Blu-Lock Saddle and Tap combination. As noted above alternative fittings can be substituted for these products. |
| | 207-020 | Nipple fitting to connect T fitting to flow control valve. If no flow control is desired for individual drip lines this part can be omitted. Various lengths are available in the Nipple Fitting category. |
| | 0921-07 | Flow Control for individual drip line is recommended to shut off harvested lines. |
| | DL-75M600 | 3/4" Male Pipe Thread fitting x Direct Lock to connect flow control valve to the drip line. |
| | DL-L600 | Direct Lock Elbow for 1/2" Solid Drip Tubing |
| | DD-RC700 | Ratchet Clip for attaching drip line to Trellis Wire. Not needed for drip lines laying on ground. |
| | DD-SPCV05 | Self Piercing Pressure Compensated Drip Emitter .5 gph. |
| | DL-EC600 | End Cap for end of each drip line. Removable cap for easy drainage and winterization. |
If the drip line is located at the end of a sub main distribution line there are two options.
a) Install the drip line as illustrated above and continue the lateral distribution line with an end cap or flow control valve. This can be connected using a Male adapter 1436-007 and a 0921-07 as shown below. This provides a convenient way to drain the sub-main line and can also provide a simple connection point if an additional drip line is installed.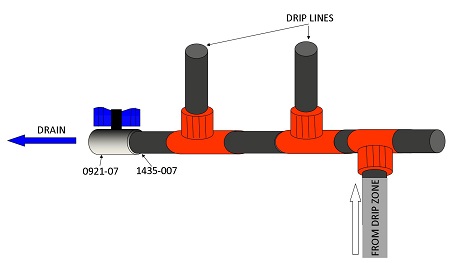 b) Install an elbow at the end of the lateral line as shown below. This is accomplished by replacing the quick tap saddle with a 1407-007.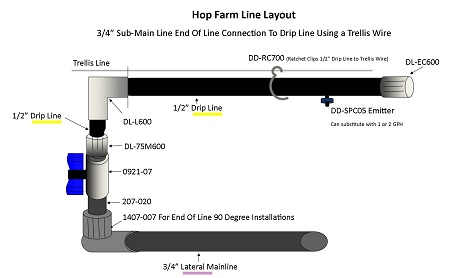 Finally we will look at a possible component combination if the drip lines need to be disconnected for any reason. Although the assemblies illustrated above can be disconnected relatively easily the illustration below replaces the DL-75M600 with a combination of a 3/4" Nipple Fitting and a DD-CFP700 which is a female pipe thread swivel adapter.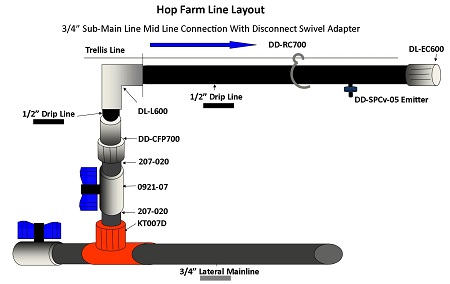 The following page will illustrate Drip Line assembly examples for Vineyards using Drip Emitter Tubing (Dripline)
Ref 890