Pumpkin Irrigation Water Source Connection
---
Pumpkin Patch Irrigation
Water Source Connection
Now that we have our layout designed we can start to put together the components for your pumpkin watering system. As with most all drip irrigation systems the water source connection is comprised of a shut off (manual or automated), a filter, and pressure regulator. The filter and pressure regulator are always located downstream of the shut off. For our pumpkin irrigation example we have 2 zones and will therefore need two drip zones. Below is a sample illustration followed by a parts list.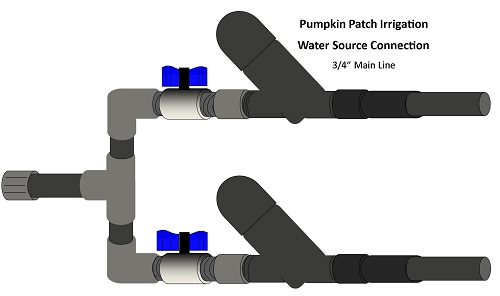 We can now look at the parts list required for this water source connection. There are many product options when choosing a water source connection assembly but many times it comes down to using pipe thread or hose thread components. Both get the job done however pipe thread connections tend to be more duable than hose thread connections. Below we have illustrated a few options for our example.
Hose Thread
Pipe Thread
Description
Flow Control. For hose thread systems it's common to simply use an irrigation timer, however it's also possible to use standard irrigation valves. Regardless of how you choose to set up your system, the flow control valve is always connected before Filters, and Regulators.
Timers
Controllers
Filters are available in both Pipe Thread and Hose Thread. You also have the option of choosing a disc filter over standard screen filters.
DD-YS75HFM
DF075-140
Pressure Regulators are usually connected to the Drip Irrigation Filter. Depending on initial pressure of the system the most common regulators are between 25 and 35 psi for drip systems.
DD-HPR25
NET35

Connection To Distribution Tubing

3/4" Tubing
When connecting a 3/4" Line to water source components you have choices depending on the type of 3/4" Tubing you are using. If you are using 940 Series Solid Drip Tubing you can use any of the 3 components listed. However if you are using 100 PSI Poly Tubing compression fittings CHS940 and CFP940 will not connect properly and the 1435-007 should be used.
DD-CHS940

or

1/2" Tubing
Connections when using 1/2" Tubing for Smaller Systems
When using 1/2" Solid Drip Line as your distribution line you can either choose direct lock fittings for hose thread, or compression fittings for pipe thread.
DL-FHS600
DD-CFP700
We will now move on to the drip line connnections for our sample pumpkin irrigation system.
Ref 810