Using Netafim Techline for Vegetable Gardens and Raised Bed Gardens
---
Raised Bed System Layout Using TLEZ or TLCV Dripline.
This set up allows for easy removal of drip lines and or entire manifold assembly.
Easy shut-off of individual beds for isolation. This is also beneficial for Winterizing system.
Long lasting for many years of use.
Illustration of a Raised Bed Vegetable Garden Using Netafim Techline Drip Hose.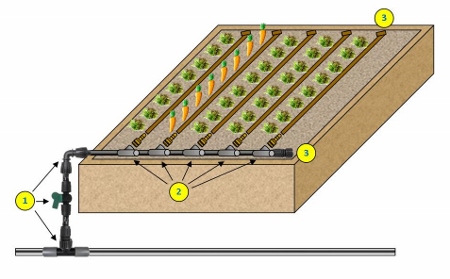 Component Options For Raised Bed Set Up Using TLEZ Dripline

1

Connection from Mainline to Raised Bed or Garden Area (use either 1/2" or 3/4" Solid Drip Tubing)

Direct Lock Fitting to create "T" to Garden Bed (with Swivel Fitting for easy removal of entire Bed Assembly. For Connection from 3/4" Line use DD-ST940.

Male Hose Adaptor connects to either DL-ST600 or DD-ST940. You now connect 1/2" Solid Drip Tubing to the DL-MH600.

Note: You can sutbstitute these first two components with either a single DL-T600 or a DD-T940700 (if using a 3/4" header)

Flow Control Valve to shut off or isolate watering for Garden Bed.

Direct Lock Elbow.

2

Connection assembly from 1/2" Tubing to TLEZ 12mm Dripline (17mm Tubing Can also be used with 17mm fittings.

Connects to 1/2" line and provides a 1/2" MHT (male hose thread) fitting.

NDS PHA75

3/4" Female Hose Thread x 3/4" Female Pipe Thread Swivel Adapter

1/2" Male Pipe Thread Fitting x 12mm Insert Fitting for direct connection to 12mm Dripline. If using 17mm Dripline a T17050MA will be required.

3

End Cap Connections

Figure 8 Fitting for closing the end of 12mm Dripline Runs. For 17mm Tubing use DD-F8.

T12SOV (or TLSOV for 17mm) Fitting can also be used for drainage at the end of dripline runs.

End Cap fitting for the end of 1/2" Solid Drip tubing runs. Allows for easy drainage at season end.

4

Additional Components To Consider

1/2" Hold Down Clips for Nailing to Wood Raised Beds.

Hold Down Stakes to keep tubing placed in soil.
Ref 650